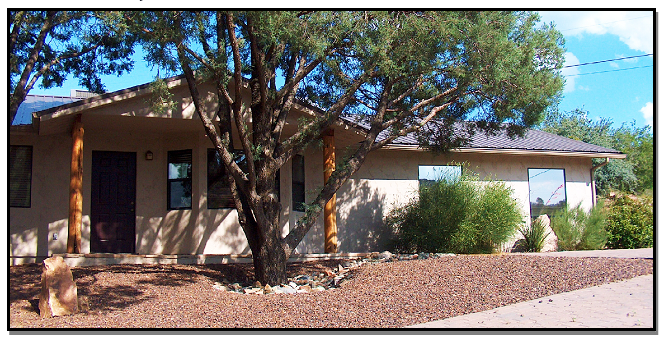 Guther Financial LLC
2801 Willow Creek Road
Prescott, AZ 86327
Keith Guther, ChFC, AAMS
(928) 778-2770
Local. Independent. Well-Established. Highly-Respected.
An Exceptional Level of Financial Expertise. With over 20 years in the investment business, our financial advisor Keith Guther has led clients through many different economic climates. Considering the volatility of markets and the unpredictability of both world and personal events, he seeks to help clients find financial confidence and success under the widest range of circumstances. Whether it's smooth sailing ahead or a turbulent ride, Keith wants his clients to be well prepared and to sleep peacefully at night.
We offer comprehensive financial services through our local and independent office. As a Chartered Financial Consultant (ChFC), Keith has had extensive training in advanced financial planning, investment taxation, retirement planning, and estate planning. His professional advice and investment services include stocks and bonds, exchange-traded funds, mutual funds, fee-based management, annuities, life insurance and fixed income investments.
An Exceptional Level of Service. As an independent advisor, Keith has no pressure to offer company proprietary products and offer truly individualized investment plans that are not just a set of computer-generated cookie-cutter recommendations. Each client receives a detailed and thorough review of their financial and personal situation. Then, Keith offers a variety of investment options, carefully explaining the advantages and disadvantages of each investment. Our clients make well-informed choices.
One of the most important services that Keith provides is his understanding of the intricacies of the financial world and the tax laws that impact many investment choices. In this complex and changing world, clients don't want to rely upon guesswork or make costly mistakes working with a less-experienced advisor. With legal and tax matters, we always encourage clients to consult with other professionals as well, including their attorneys and accountants. Keith often has meetings or phone calls with these professionals to coordinate services.
Our clients' personal welfare is our highest aim. We take very good care of our customers. Personal integrity and commitment to service are our hallmarks. These are virtues often touted but rarely demonstrated in the business world. In our office, they are evident in the satisfaction and loyalty of our clients, many of whom have been with us for 15-20 years, since we opened our first office in Prescott in 1999.
Our Commitment to Client Satisfaction. At our office, real people answer the phone and real people work hard to provide efficient and friendly client service. All of our staff members are set to go the extra mile to provide customer satisfaction. We maintain frequent personal contact and work to process transactions and other requests quickly and efficiently. Portfolio reviews are scheduled frequently and phone calls are returned promptly. Throughout the year, we offer educational seminars to educate clients about investments, retirement planning, tax issues, and advanced estate planning. We also sponsor frequent social events which allow us to stay in touch with clients and guests on a more informal basis.
Free Private Consultations.  Keith is happy to provide consultations to answer questions, or to provide complete financial reviews. All consultations are free, with no strings attached. These meetings are informative but low-key, with no pressure to continue or to make specific investments.

2801 Willow Creek Rd, Prescott, AZ 86301
Keith Guther, ChFC
(928) 778-2770
Email: keith.guther@lpl.com
Securities and advisory services offered through LPL Financial A Registered Investment Advisor. Member FINRA / SIPC
Copyright 2022. All Rights Reserved.
The LPL registered representatives of Guther Financial LLC may only discuss securities or transact business with persons who are residents of AZ, CA, CO, FL, ID, IN, MA, MD, ME, MI, MN, MO, NC, NE, NJ, NV, NY, OH, OR, PA, SC, TX, VA, WA.
No information provided on this site is intended to constitute an offer to sell or a solicitation of an offer to buy shares of any security, nor shall any security be offered or sold to any person, in any jurisdiction in which such offer, solicitation, purchase or sale would be unlawful under securities laws of such jurisdiction.